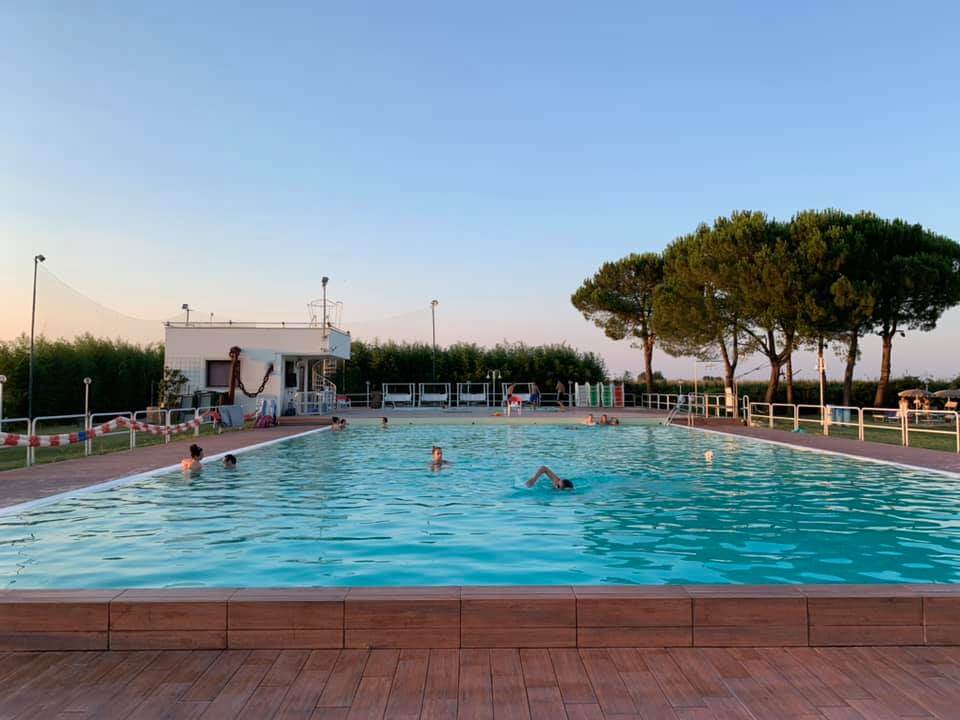 Swimming: energy and relax
The structure awaits you to offer moments of genuine relaxation and renewed vigor. Between poolside services, regular classes, and aquatic activities, you can find the right fit for enjoying your days of wellness, sports, or lazing around.
Defying your expectations
Learn more about the services available.
Swimming Area
Semi-Olympic Pool (25 x 12.50m)
1.2 to 2.5 meters deep
Beachside pool
Parallel silver ion disinfection
Hot and cold water showers
Shoreline area
Lifeguard service with white flag 
Poolside
Paved sun deck area of 500 sqm
Umbrellas and sunbeds
Park for dynamic activities
Relaxation area with rocking chairs and lounge chairs
Snack bar kiosk
Sunset aperitif area 
Activities and classes
Water activities, swimming classes, and sports or regenerative classes for the body and spirit are offered every summer.
For your physique
Water is a "coach" for your body:
It reactivates circulation throughout the body and oxygenates organs, tissues and mind;
It helps unclog skin pores, ensuring better breathing;
Water gently massages the body, helping to relax muscles and smooth the skin;
Immersing yourself in and getting in touch with nature helps to regain your mental and physical balance.  
For your spirit
Swimming or even just being lulled by the soft sway of the water provides a profound feeling of well-being, escapism and tranquillity.
The absence of all weight also helps our thoughts become light and allows us to get in touch with our most intimate and personal spirit and emotions.
Italy and water: an age-old pairing
The beautiful country has always been a concrete example of how humans and the sea can coexist and thrive.
With more than 8,000 kilometers of coastline, 800 islands, 1,500 lakes and 9,000 kilometers of rivers, the fates of Italians have always been intertwined with water in its most natural, splendid and sometimes intense forms.
That is why water is a fundamental element for us in our practice of the "dolce vita" (sweet life). 
Philosophy